Shopostomysupplies' Terms of Use, Policies and Disclaimers:
Shipping Terms
Return Policy
Order Refusal Policy
Cancellation Policy
Auto-Reorder Policy
Warranty Policy
Terms of Use
Liability Disclaimer
Health and Medical Disclaimer
Trademarks Disclaimer
Return Policy:
What is Shopostomysupplies' Return Policy?
Which products are Non-Returnable?
How do I receive a Return Authorization Number?
How long does it take to receive a Refund?
Is there any Re-Stocking Fee?
What is Shopostomysupplies' Return Policy?
Customer satisfaction is our top priority. We stand behind our products. If the merchandise you received is defective or not what you expected it to be, and you wish to return the item, please submit a return request from my account section or contact our Customer Service department at 877-658-4739 / 203-616-2850 or email us.
Merchandise must be returned within 30 days of the receipt of order. Returns are not accepted after 30 days.
Items (including parts and accessories) must be returned in the new, unused and resalable condition in its original packaging.
Before returning any product, the buyer must obtain a Return Authorization Number (RA#) from a Customer Service representative. Orders returned without obtaining an RA# will be entitled to receive only "In-Store Credit" that can be used towards future purchases.
All custom orders and items of Hygienic nature are non-returnable. Refer to the Non-Returnable Items section for further details.
Returns will be reviewed and inspected before issuing credit. Please allow 3 to 4 weeks for processing and the credit will be applied to your original method of payment.
Buyer is responsible for return shipping. Return orders are subject to a restocking fee. Please see fee structure below.
If the return is the result of a defective product or shipping error, we will refund the entire purchase amount and return shipping costs.
Which products are Non-Returnable?
Due to the hygienic nature of some items, they are non-returnable. The items listed below are non-returnable:
All hygienic items.
Opened personal care items.
Anything opened, used, or tried on.
All customized items.
Besides these, items that have the "non-returnable" phrase or the image shown below:

"This item cannot be returned or exchanged once they are opened due to hygienic reasons"
How do I receive a Return Authorization Number?
You can Submit a return request by logging into your account. You will receive the Return Authorization Number (RA#) details in the email within 2-3 business days.
Log in to your account
Go to the order history
Click on return order
Fill the return form and Submit it
If you do not have an email address, we will make other accommodations for RA# Details. Write the RA# on your label affixed to your package prior to shipment.
For faster processing, please email us the Return Tracking Number.
How long does it take to receive a Refund?
Please allow 3 to 4 weeks to process the returns. Once is the item is received, and inspected, your refund will be processed and automatically applied to your credit card or original method of payment.
Is there any Restocking Fee?
15% restocking fees will be applied.
Buyer is responsible for return shipping charges.
Outbound shipping cost is non-refundable.
For orders that qualified for free shipping, $8.99 will be deducted from the refund if the product is returned.
---
Order Refusal Policy:
If a package is refused at the time of delivery, the customer will be responsible for round trip shipping costs incurred by Shopostomysupplies.com. Once the package is back in the warehouse, we will issue a credit to the original form of payment after deducting any applicable return shipping charges and restocking fee. The return shipping charge will apply even if you were originally not charged any shipping due to a free shipping promotion. This policy does not apply to packages that appear to have been damaged during shipping.
---
Cancellation Policy:
At Shopostomysupplies we believe in providing absolute customer satisfaction and pleasant shopping experience. Most of the items are processed for shipment through our system within a few minutes of placing the order. You can cancel your order before the product has been processed for shipment. Once the shipment is processed for departure, returns and refunds will be applicable according to Shopostomysupplies's return policies.
If you wish to cancel your order kindly contact our Customer Service department at 877-658-4739 / 203-616-2850 or email us. The refund on canceled orders will be credited back to the original method of payment used. Coupons or any special offer applied on the order will not be credited back. Shopostomysupplies reserves the right to cancel any order. The orders can't be changed or modified once processed for shipment.
---
Auto-Reorder Policy:
What is Shopostomysupplies' Auto-Reorder Service?
How do I set up an Auto-Reorder for the product I need?
How do I cancel an Auto-Reorder?
How do I change my Auto-Reorder items?
Why is my Auto-Reorder canceled?
What is Shopostomysupplies' Auto-Reorder Service?
Need supplies every 15 days, every month or every 3 months? Our auto reorder service is the perfect solution for you! You can set up the auto reorder service the first time you buy the product by choosing the reorder frequency and from that point on you will get delivery of your supplies at the frequency you picked without the hassle of reordering. Save Time, Save Hassle !!
How do I set up an Auto-Reorder for the product I need?
It is very simple to setup auto reorder. Place an order and during checkout, select Auto-Reorder frequency, which is the frequency with which you would like to get your orders. And that's it! The system will automatically generate your order and charge your credit card for it. The complete process is extremely secure and safe.
How do I cancel an Auto-Reorder?
No longer need those supplies, cancel your AutoReorder by logging into your account, clicking on auto reorder and then clicking on Cancel Setup in the list for the item you do not need anymore. Want to change the frequency of the order, or add items to your reorder? Simply send us an email.
How do I change my Auto-Reorder items?
Please login to My Account and click on the Auto-reorder section. Select and remove the products you would not like to receive any more. Browse the website to select your new choice of product, add to cart, place an order and select auto-reorder at checkout. Your new item would be set on Auto-reorder as per your selected frequency. Please follow these steps if you need to change the size, brand or frequency of an item you are currently signed up for.
Why is my Auto-Reorder canceled?
In case of any credit card rejection or payment cancellation, the Auto-reorder process would be paused and no shipment would be processed. The customer would be required to place a new order with new auto-reorder setup and credit card information for the Auto-order to resume going forward.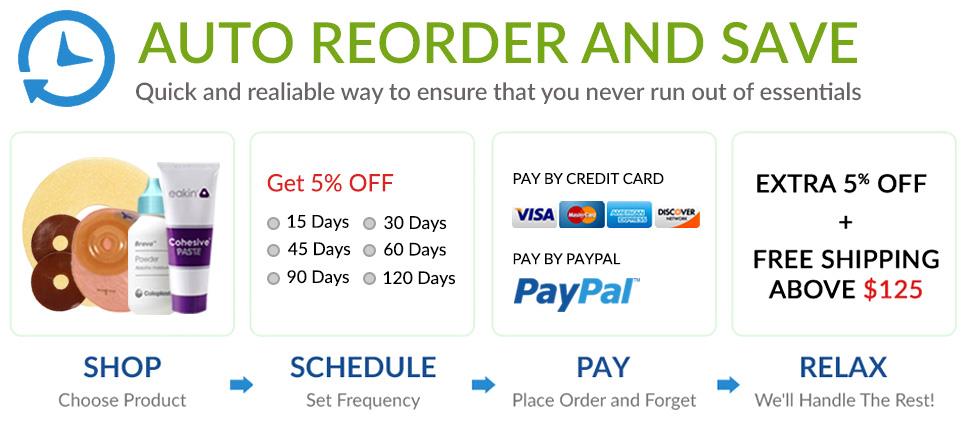 ---
Warranty Policy:
Please be aware that many product warranties do not provide coverage outside of the United States, and some products may not be exported under any circumstances due to manufacturer restrictions or U.S. Law. We make no representations regarding warranty coverage, compatibility or serviceability for products that are used outside the U.S.
---
Terms of Use:
Legal requirements compel us to advise you to review our terms of usage that will govern the use of our site for purchase of goods. In accessing, browsing, and using this site, you have acknowledged that you have read, understand, and agree to be bound to these terms.
All information contained within this site including but not limited to all images, graphics, writings, and other materials that appear within is the sole property of Shopostomysupplies, its subsidiaries, and affiliates, or their respective owners. This site and its contents are provided on an "As Is" basis by us. Prices and availability are subject to change without notice.
---
Liability Disclaimer:
At no time shall Shopostomysupplies be held liable for special, indirect, exemplary, consequential damages, or any damages whatsoever, including but not limited to loss of use, data, or profits, without regard to the form of any action, including but not limited to contract, negligence, or other tortuous actions, all arising out of or in connection with the use, copying, or display of the contents of this site. In an effort to provide our customers with the most current information, Shopostomysupplies will periodically make updates in the contents and in the products or services described in this site. Typographical or photographic errors are not the responsibility of Shopostomysupplies.
We reserve the right to make adjustments due to errors, changing market conditions, product discontinuation or typographical errors in advertisements. Images on the site may not always reflect the actual product.
---
Health and Medical Disclaimer:
The information provided on this website is provided for informational purposes only and should not be used to diagnose or treat a health problem or disease. Information provided at and by Shopostomysupplies is not a substitute for professional medical care. If you have a medical concern or suspect you have a health problem you should consult your primary doctor or specialist.
---
Trademarks Disclaimer:
We make no claim of ownership to the trademarks of any manufacturer whose products and/or information are presented by us, or for any publisher, publication or advertiser mentioned on Shopostomysupplies.com.